📬 Contact us
By email
Please complete this form below to reach us by email. We will respond to your e-mail within a reasonable time. If you don't get a reply within a week, please re-submit. If it's urgent, please call any Board Director.
By phone
Unless it's an emergency, please contact any Board member, by phone from Monday to Friday between 09:30 AM to 04:00 PM.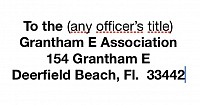 By regular mail
The City of Deerfield Beach has created 154 Grantham E, as the address for Grantham E Condominium Association Inc.  We have assigned a mailbox for to this new address. You may now send your regular mail to the Association using this new address.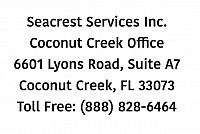 Seacrest Services Inc
If you need to call Seacrest Services Inc.
Seacrest Services Inc. - (561) 697-4990 
Property manager

John Nogrady, Pest control & bug spray - 954-410-3486
Click here to place a Work Order for replacing  burnt out light bulbs or fluorescent tubes. Please be aware that prior to starting any Work Order that requires invoicing, Seacrest will be requesting approval from the Board.
Emergency numbers and services
Emergency - 911
Non-emergency numbers: